The art of social network stalking


A few months ago, I discovered this "great" new app called Banjo. To say the least, I was intrigued. As some of you may know, I dropped off Facebook last summer (2012) because I had become increasingly concerned with that site's privacy policies. Likewise, I had locked down my Instagram account for the same reason. I didn't rejoin Facebook until this winter and use it only sparingly to connect with my friends or to share content I deem important. I reopened my Instagram account out of pure narcissism 😛 I still will not share my location under (almost) any circumstances and keep location services turned off on my phone unless I need it for GPS navigation.
Back to Banjo: this is an app that will let you connect to all your social networks and let you receive content from your friends in your newsfeed. So how does that make it special?
It turns out Banjo also collects content from random strangers and displays it in your feed. It even plots it in a map that's available directly in the app. Consider the example below.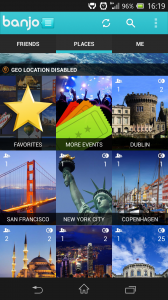 This is a screen shot of Banjo Places. You'll notice I have "geo location disabled." You will understand why in a minute. You will notice that Banjo lists one of my friends as having been to Dublin, another in San Francisco, another in Copenhagen, and so on. Likewise, I am connected to two other people in Dublin (we'll see who that is later on in this article) and no less than 25 connections in Oslo (bottom right in the picture).
It gets more interesting. Let's click on the image of that castle in Dublin. I now see that the two connections are people I follow on Instagram. But below their pictures, I also see a string of public Instagram, Twitter, Foursquare, and Facebook updates from complete strangers. But that's not the scary part. After all, these posts are public and probably intended to be public (I say "probably" because tons of people never adjusted  their profile privacy nor location settings), so I won't bore you with a screenshot of that.
What I will bore you with is the fact that there's a link to a Map on that same page. Let's move on to Oslo. The screenshot on the left was made today at 4:38pm. It spans the area between Oslo Central Station on bottom center to Grünerløkka in the north and covers a total of 51 pictures posted today, with geolocation tags enabled. Meaning, these are complete strangers of mine and I know exactly where they were that day and time, and what they were doing there.
I can even zoom in on the map. Let's do that together, shall we?
In the image below, I've zoomed in on Oslo Central Station.
There are 4 public updates from that location.I can even see who's posted the pictures. And by clicking on the image of the dude wearing the cool sunglasses on the right, I can quickly move to prinsthomas's Instagram feed and learn that he's traveling. I can share his post with others, follow or friend him, and learn if he's connected to me through friends on my social networks.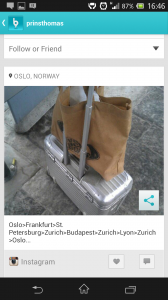 This could indeed be a great social marketing tool. It does open for other possibilities, however. Think about it: how many pictures have you taken at home and subsequently posted to either Facebook, Instagram, or Twitter, complete with your location embedded in your post?
To put this way: we know where you live.
Banjo is available for iPhone and Android on their respective markets. Your Facebook, Twitter, Foursquare and Instagram privacy settings can be tweaked, to some extent.
PS: I haven't talked about Facebook Graph Search yet. But I will 🙂